Media Interview/Report: "Ground-breaking Rainfall Study" 
Jan. 2022
"A new study has identified connections between oscillations in the Gulf Stream and long-term rainfall expectations in the Southeastern U.S.—a finding made possible by the supercomputing resources at the University of Miami Institute for Data Science and Computing (IDSC). "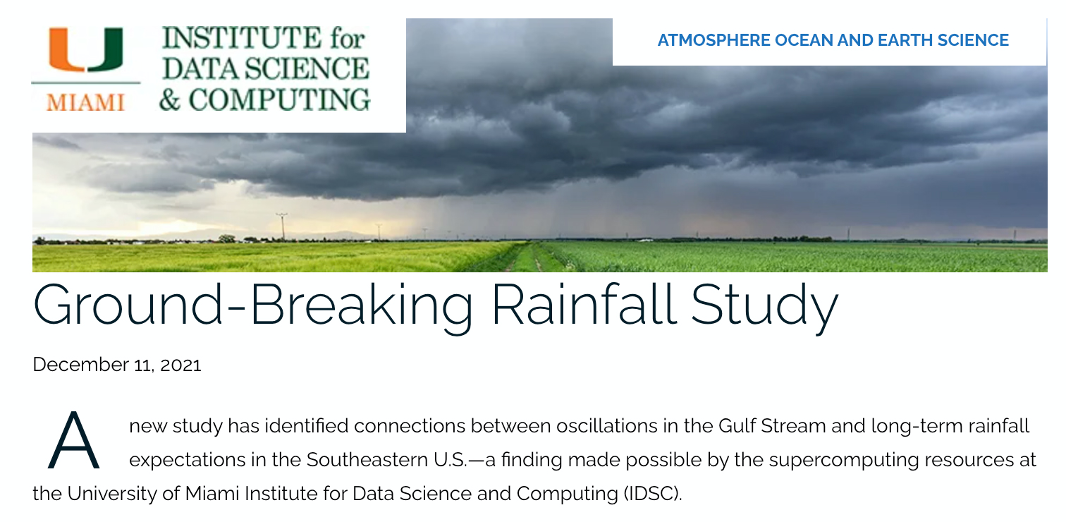 Congratulations! Princeton University AOS/GFDL Meteorologist Dr. Suki Manabe Named the Winner of the 2021 Nobel Prize in Physics
Oct. 2021
Today, 
Syukuro "Suki" Manabe, 90, was named among the winners of the 2021 Nobel Prize in Physics for his groundbreaking climate science achievements. His pioneering research in the 1960s laid the foundation for how scientists perceive the Earth's climate and how human actions continue to influence it. Starting in the 1960s, Manabe, a senior meteorologist in Atmospheric and Oceanic Sciences (AOS) based at Princeton University, developed the first three-dimensional models of the atmosphere while working at NOAA's Geophysical Fluid Dynamics Laboratory (GFDL) along with founding director Joseph Smagorinsky.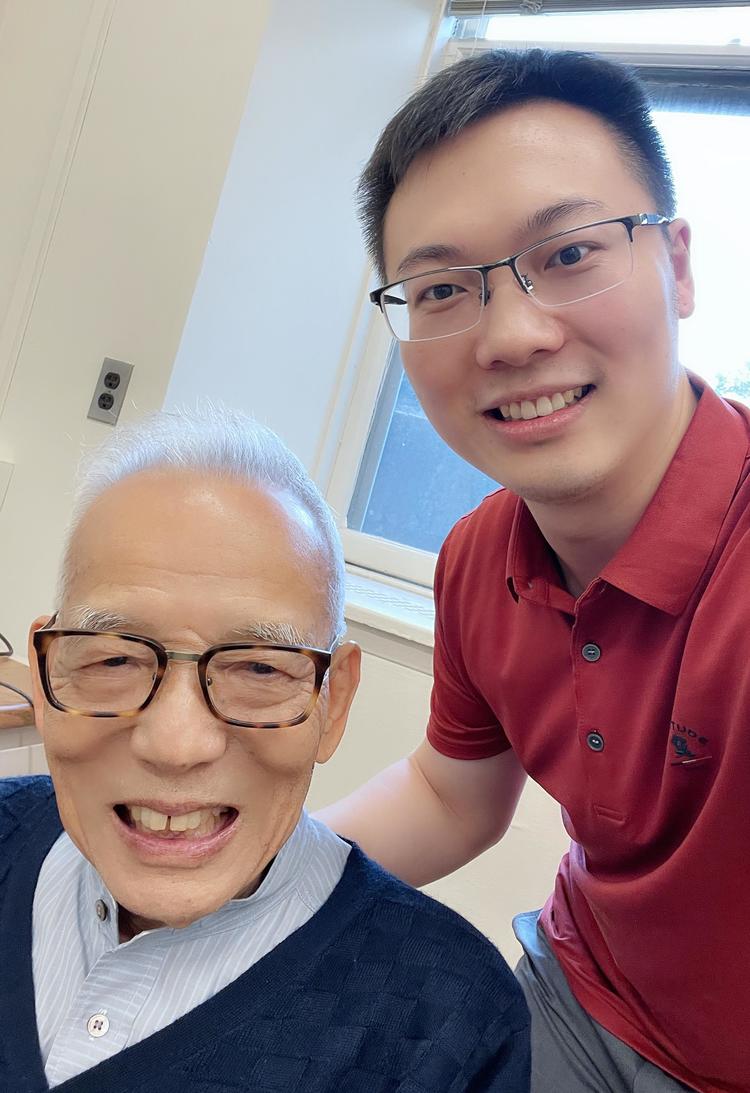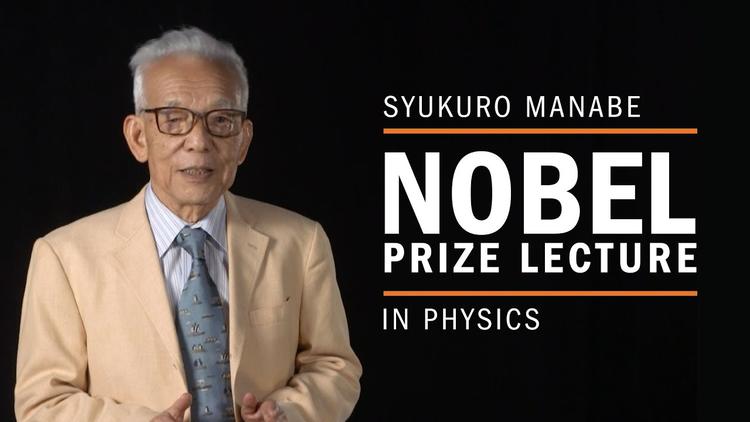 Photo: Dr. Wei Zhang & Dr. Suki Manabe 
Great News: "AI For Multi-year ENSO Prediction" Project Received funding from Microsoft AI for Earth Grant
May 2021
Wei Zhang (PI), Jia Geng, Junfei Xia, and Ben Kirtman received a research grant from
Microsoft
for the project - "Developing a deep learning system for multi-year ENSO prediction". This project aims at developing a deep learning system by training a convolutional neural network to improve multi-year ENSO prediction, which will potentially supplement current dynamical forecast systems based on global climate models.
Visiting Scientist Position at NOAA Global Systems Laboratory in Boulder, CO          
Apr. 2021
Starting from April 2021, I have become a long-term visiting scientist at NOAA Global Systems Lab (GSL) in Boulder, Colorado to engage in collborative research concerning the coupled ocean-atmosphere system at David Skaggs Research Center. The research project seeks to provide an alternative method to estimate ocean and atmospheric predictability collabrated with NOAA's Senior Scientist
Dr. Zoltan Toth. 

Princeton University's (AOS Program) CIMES Postdoc Fellowship 
Sep. 2020
I was awarded received the CIMES Postdoctoral Research Fellowship from Princeton University's AOS Program. This fellowship is one of the best postdoc fellowhips in the US and globally. I am currently working on analyzing prediction skill and predictabilty in climate models wit a specific focus on subseasonal (3-6 week) timescales. This is done in collaboration with the NOAA Geophysical Fluid Dynamics Laboratory (GFDL). My collabrators include 
Dr. Tom Knutson
, 
Dr. Lucas Harris
, 
Dr. Baoqiang Xiang
,
Dr. Tom Delworth
, and more.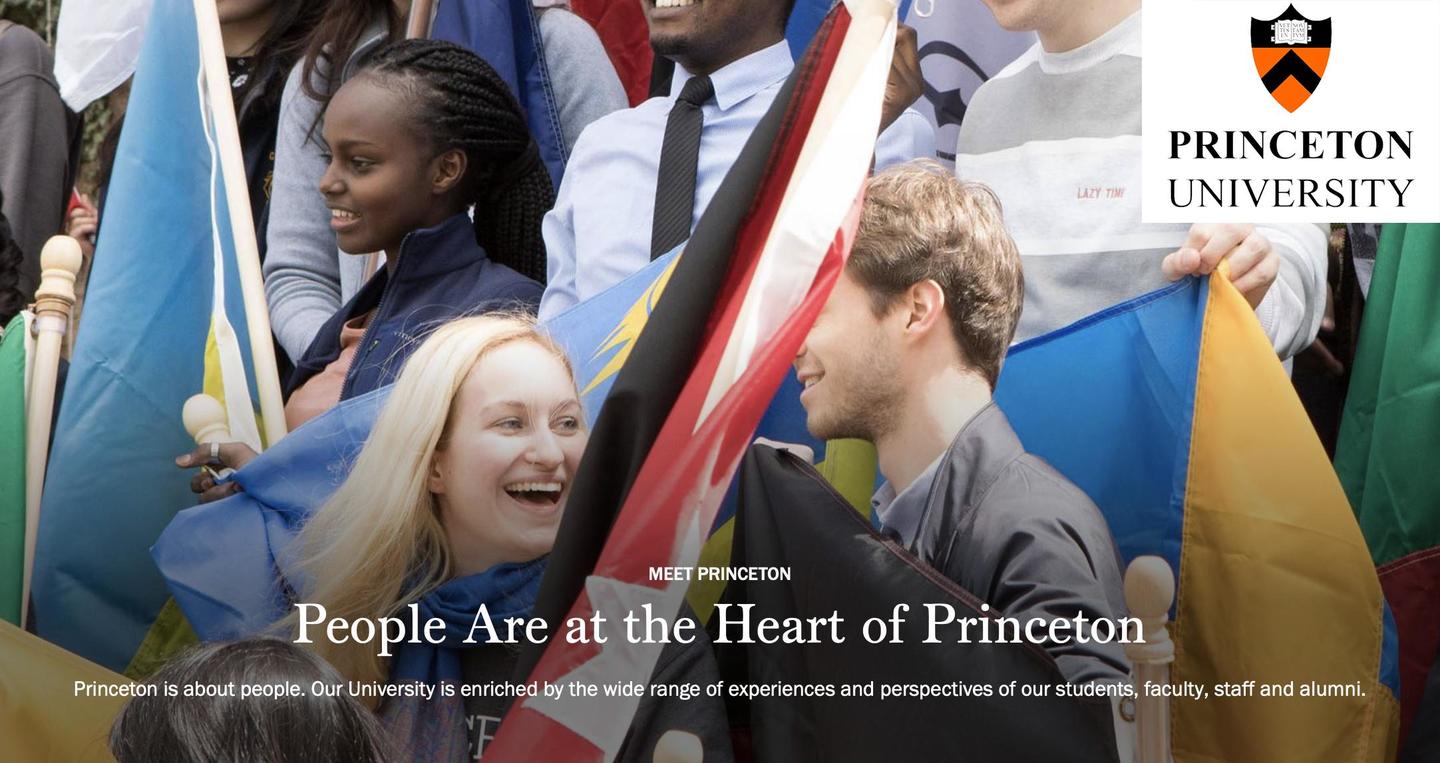 Climate Communication with Former United Nation Leader 

Ban Ki-Moon 
Feb. 2019
A global conference on climate change resilience in Miami on Tuesday highlighted the city's efforts to respond to sea level rise and other extreme weather events.    Led by former United Nations Secretary General Ban Ki-moon, representatives from the Global Commission on Adaptation toured the city's flood prevention projects and met with Miami's climate resilience leaders. Ban praised the city's work to address sea level rise, saying Miami is a model for other places around the world under threat from climate change. Dr. Wei Zhang, as a climate scientist representation, communicated climate change adapation and mitigation issues with Ban Ki-Moon in this international discussion.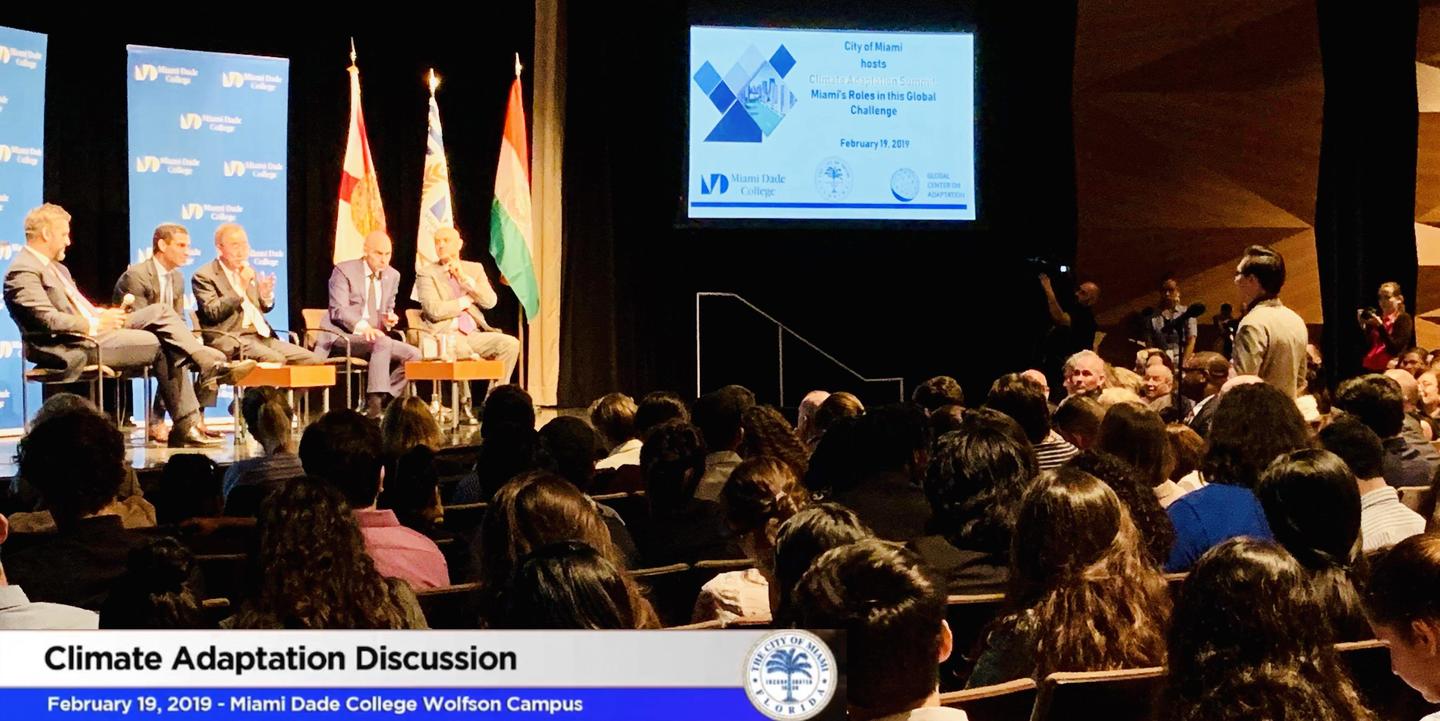 Media Interview/Report: Improving Climate Predictions over Decades (Research Spotlight)
June 2019
Recent research by Zhang and Kirtman (link of the paper) look at how to improve decadal climate predictability by separating climate signals from the noise in coupled climate models. This study, published in the Geophysical Research Letters, applied an interactive ensemble coupling strategy to the Community Climate System Model (CCSM4) to create climate simulations with decreased atmospheric noise at the air-sea interface,

suggesting the significant impact of the internal atmospheric dynamics on decadal-scale climate variability and predictability.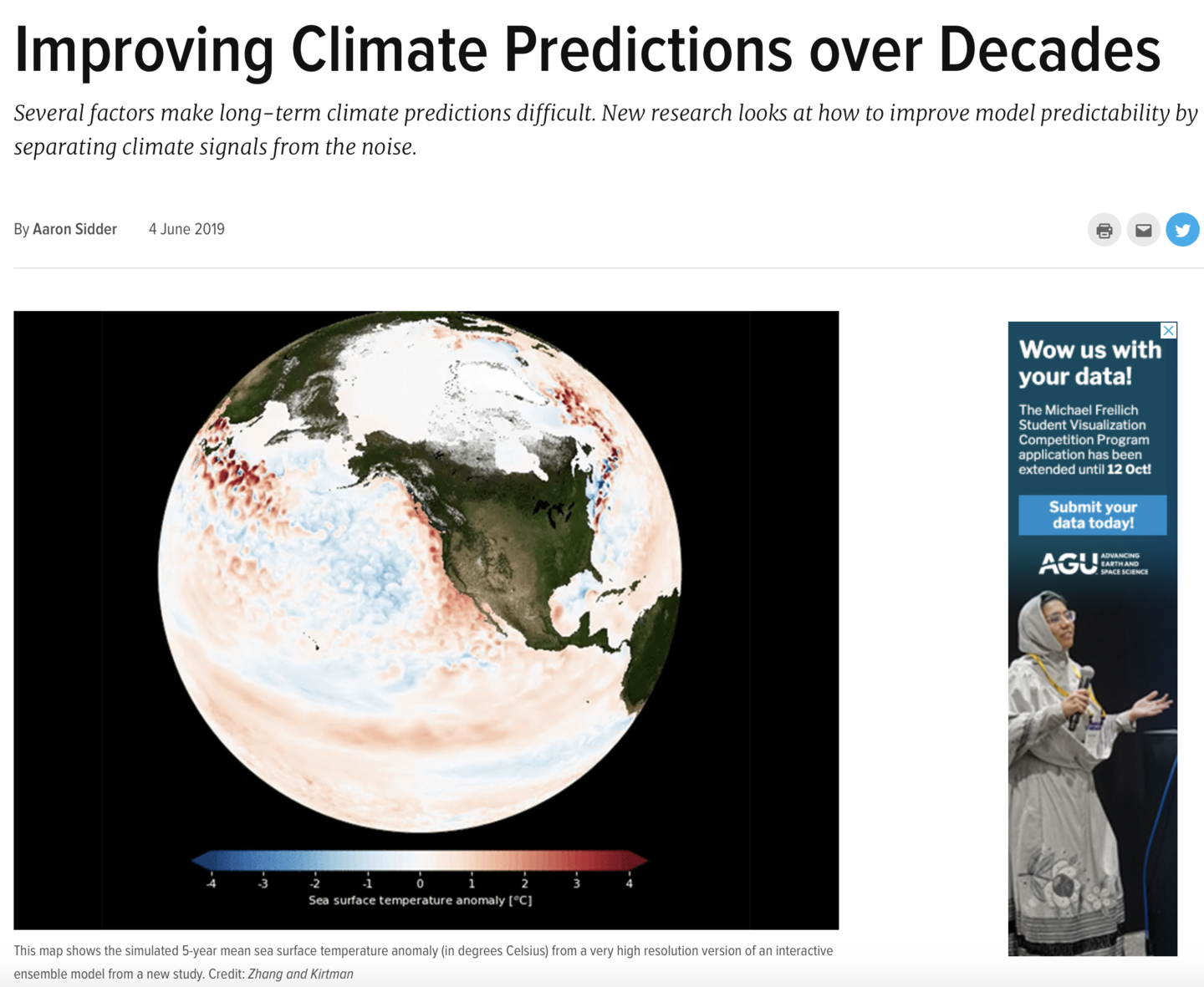 Congratulations! My PHD Advisor Dr. Ben Kirtman is named American Meteorological Society Fellow
July 2018
Dr. Ben Kirtman is recognized for his outstanding contributions to weather, water and climate. "MIAMI—University of Miami (UM) Rosenstiel School of Marine and Atmospheric Science Professor Ben Kirtman has been named a 2019 fellow of the American Meteorological Society (AMS) for his outstanding contributions to weather, water, and climate. He will be recognized during the AMS Annual Meeting on January 9-11 in Phoenix Arizona".